-LIC Fear Returns:
a horror themed group art show and film festival
-
Reception: Oct. 6, 7-10 pm
Film Festival: Oct. 26 & 27, 7-10pm
The Plaxall Gallery: 5-25 46 th Ave. LIC NY
Hours: Sat.&Sun. 12-5pm, Thurs. 6-10pm
---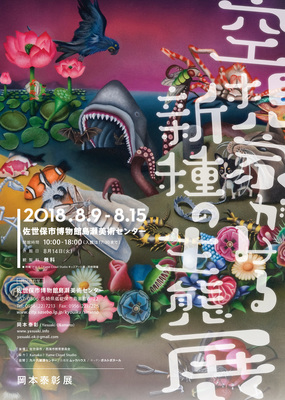 Exhibition: August 9-15 2018
The Sasebo City Museum Shimanose Art Center
6-22 Shimanose-cho Sasebo-city Nagasaki JAPAN
---
-The 23rd JAA Art Exhibition of Japansese and Japanese American Artist in New York
-
The Japanese American Association of New York, Inc.
49 W 45th St. 11th Fl. NY
---
Reception & Silent Auction: May 11, 7-10 pm
The Art Students League of New York
---
-
GCN 7th Annual Homeless Benefit Show
-
Reception Party: April 18th 4-8 pm
Grand Central Neighborhood Social Services Corporation
---
-
ASL Concours Exhibition
-
Reception: April 4th 5:30pm -
Phyllis Harriman Mason Gallery
215 W 57th st. 2nd Fl. NY
---
The Stories We Tell In Black And White-
Opening Reception: March 6th, 6-9PM
IDEAL GLASS Gallery
---
-19th Annual WAH Salon Art Club Show-
Reception: Saturday, Jan. 20 from 4 - 6pm
Exhibition: Jan. 20 - Feb. 18
Williamsburg Art & Historical Center
135 Broadway, Williamsburg Brooklyn, NY
Manhattan Borough President's Office